Gut Reset Program
Regain Optimal Health by Treating the Root Cause
87-93% of Americans Have a Dysfunctional Gut
Autoimmune diseases, immune insufficiency and even things like getting sick a lot, all stem from a sick gut gastrointestinal system. Here's a few of the symptoms associated with a dysfunctional GI system
Abdominal Pain, Cramping, Aching, Heartburn, Constipation or Diarrhea
Bloating, Burping or Excess Gas
Weight Gain, Weight Loss or Inability to Lose Weight
Have You Tried Everything (Eating Healthy, Exercising, Prescriptions, Supplements, etc.) …But the Problem Still Persists?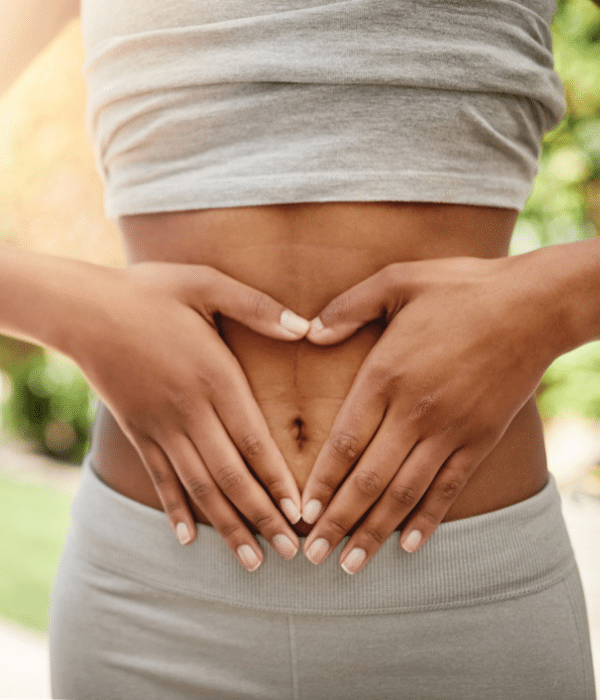 If you have ever wanted to find a long lasting solution to optimize the health of your gut, then this will be the most important message you will ever read.
Here is why …
Our MD-derived protocol focuses on root source healing and takes into account the seven triggers of all disease. Where other programs only focus on one or two components, ours is a comprehensive program that takes a deep look at what is going on with your particular body. At the beginning of the program, we gather a lot of data from intake forms, blood tests, urine tests and stool tests and analyze it to come up with an effective protocol for you.
Does this Sound Like You?
Do you experience little to no energy most of the time?
Are you tired of random aches and pains?
Do you have trouble maintaining your ideal weight?
Are you eating healthy but things just don't seem to improve?
Is your health impacting your career performance?
Is your health hindering your relationships with family and friends?
Have you already tried a bunch of tests but no one found anything?
Are you ready to get your life and health back?
What is Denali's Gut Reset Program?
Let's first start with what it's not. Our Gut Reset Program is not a silver bullet. You're not going to walk in and walk out completely different. It is a journey which can take several rounds to completely heal the gut. 
It is the most comprehensive gut program currently on the market. We've found that there are 12 components that must be addressed in order to restore health. We go through and test each of these and come up with a plan so each component gets fully addressed. 
12 Components of Gut Health that Must Be Examined
Microbiome Imbalance & Dysfunction
Leaky Gut
Food Allergies
Chemical Sensitivities
Toxic Metals (Not Mercury…this requires a separate program)
GIBO (Gastrointestinal Bacteria Overgrowth)
GIFO (Gastrointestinal Fungal Overgrowth)
GIPO (Gastrointestinal Parasite Overgrowth)
GIVO (Gastrointestinal Viral Overgrowth)
Liver Dysfunction
Fatty Liver
GI Neural Support
WHAT IS THE DIFFERENCE BETWEEN THIS AND COMPETING PROGRAMS?
Denali's Gut Reset Program focuses on the true root source. We look at the seven triggers of all disease and evaluate each of those against the comprehensive tests that we run in order to have the most comprehensive and effective plan designed specifically for you!
Our intake forms and testing are the best in the business and includes:
Complete blood count, comprehensive metabolic panel, liver function, inflammatory panels, Epstein Barr and Cytomegalovirus Panels, calcium, magnesium, phosphorus, vitamin C, vitamin D, autoimmune panels, lipid panel, testosterone panel, insulin, comprehensive thyroid panel, hemoglobin A1C, cortisol, heavy metal panel, comprehensive stool analysis (yeast, parasites, allergies, microbiome imbalance), food allergy panels and many more!
HOW MUCH DOES IT COST?
For most patients, their total cost at Denali is far less compared to other routes. The amount can vary depending on additional therapies needed as well as the number of supplements required. To learn more about pricing, please add your name to the waiting list and you'll receive another video that goes over more information. 
DOES INSURANCE COVER IT?
Our treatments are considered functional medicine and because services that fall under root source healing are typically not covered by insurance, it has the appearance of being more expensive.
The reality is functional medicine is very affordable in comparison to conventional medicine.
The majority of our clients discover that it ends up costing them considerably less than the average co-pays and costs for surgery. Plus, there's no need to take time off work for recovery time or physical therapy, saving additional time and money. Not to mention the additional cost of prescriptions and pain meds.
Our typical clients are willing to invest in their health to improve and optimize their well-being. They're often frustrated by the standard norm of 'diagnose and prescribe' and are looking for a better, more effective solution. By the end of their treatments they have a deep understanding and appreciation of what it truly means to heal. Isn't it time to make your health a priority?
We accept cash, credit cards, along with healthcare options including CareCredit and HSA accounts.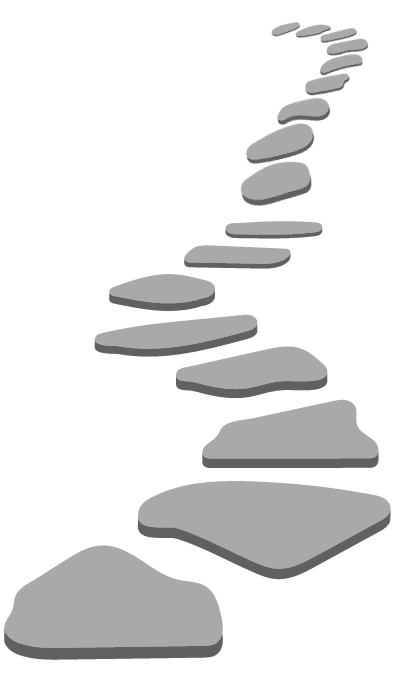 Discover Stage:
This is where we really analyze and figure out what is truly going on in your body
Intake form (manual form that provides detailed history)
Lab tests including: blood / urine / stool testing
Digital body analysis of over 550 functions of the body using electromagnetic signals to identify areas that may be out of balance
Activation Stage :
This is where we come up with a specialized plan for you
Clinic visit where we go over the results from the discovery phase
Receive nutrition and exercise instructions
Receive supplement order prescription
Implementation Stage :
This is where you continue of the path laid out specifically for you
Implement something new each day/week
Receive new supplement order prescriptions each month
Review educational videos sent out each month
Follow-up with Denali via Surveys, emails, visits or phone
Assessment Stage :
This is where we review your progress and make adjustments
Review your progress
Note what can be done better
Repeat clinic / lab testing as needed
Denali's Gut Reset Program vs Others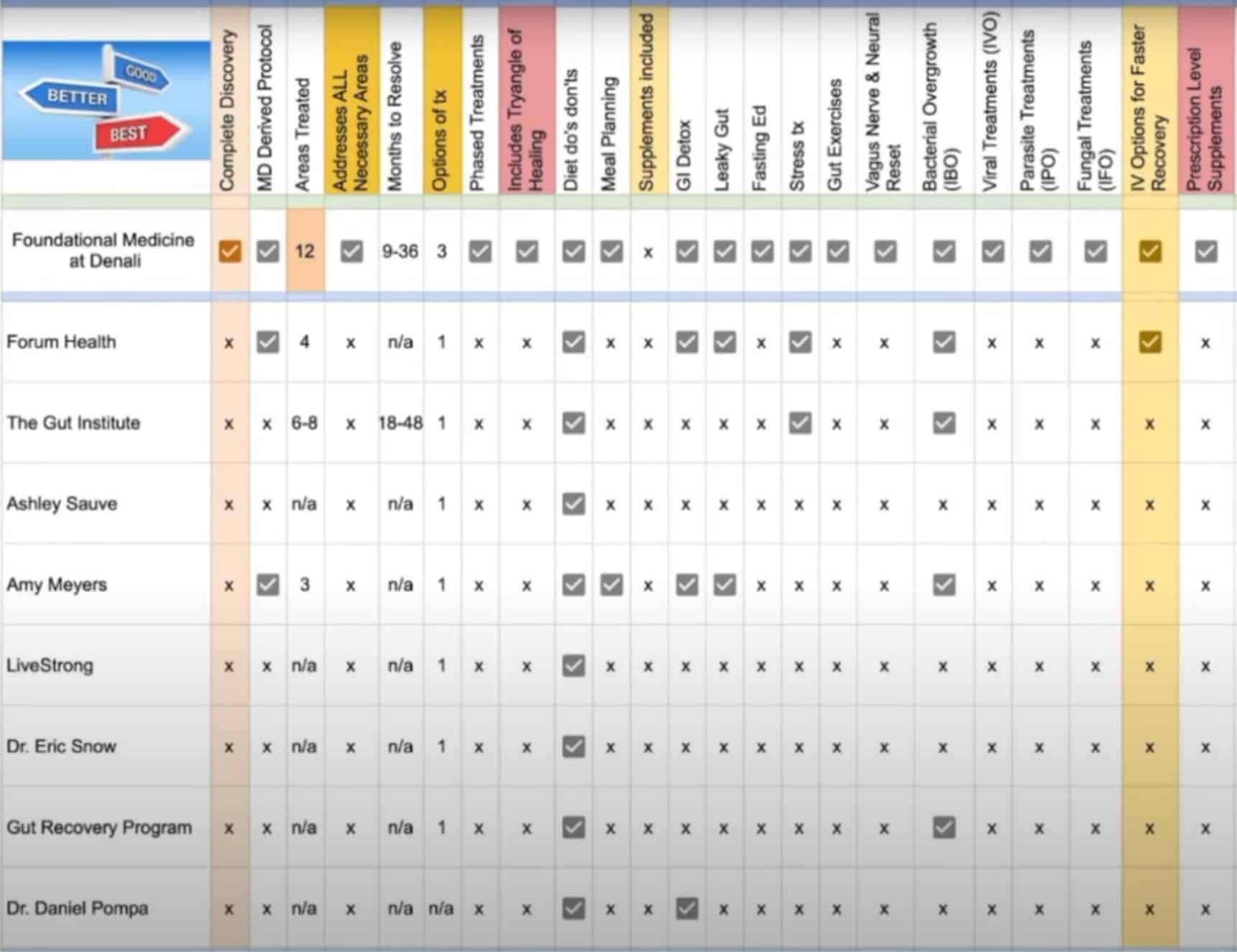 "I have been using Denali Medical's gut health program for the past few months and I am so pleased with the results. I feel better than ever before – my headaches are gone, I have more energy, I'm sleeping better, and I have even been able to reduce my prescriptions. Denali Medical's gut health program has been a life-changing experience for me and I would highly recommend it to anyone looking to improve their health."
–  Sara H.
"It's been a couple months since I started the Gut Reset Program and overall I'm feeling healthier and stronger. I still have a long ways to go, but so far, I'm sure I'm on the right path! I'm excited to see what the future holds. Thanks Denali!"
-Dave H. 
"Since I started this program, my seasonal allergies have improved significantly. I used to suffer from constant sneezing, itchy eyes, and a runny nose every fall. This season, I have experienced a noticeable reduction in symptoms and have been able to enjoy the outdoors without constantly feeling miserable. This program has truly been a game-changer!"
-Caroline S.
"I am thrilled to share my experience with Denali's GI Reset program. I was a participant in their pilot program and before that, I constantly struggled with abdominal pain that greatly affected my daily life. But thanks to this program, I have significantly reduced my discomfort. I can't wait to see the results by the end of the program."
-Mike M.
"My overall well-being has improved and I haven't noticed nearly as much bloating after my meals. My blood tests have been showing much improvement which helps explain my increase in energy. This is a long-term program but I can already see the results. I wish I would have started this program years ago!"
-Kathy T.
Just like a garden won't flourish without the right amount of water, sunshine and a soil rich in microbes, our bodies can't rejuvenate and heal without the right environment. Over time our bodies break down and don't function properly but by addressing the seven triggers, we can help the body return to a path of healing.
Using these core principles, we've helped customers will all different types of immune insufficiencies reclaim their health!
If you're interested in true healing, click on the link below to schedule your consultation.
Or Fill Out the Form to the Right 
Meet with our team to learn how we can help you improve your gut health and GET YOUR LIFE BACK.
Get On Our Waiting List!
We're currently only accepting 10 new patients each month for the Gut Reset Program. Enter your information below or call our office to get on our waiting list.
Or Fill Out the Form Below 
Meet with our team to learn how we can help you improve your gut health and GET YOUR LIFE BACK.
Get On Our Waiting List!
We're currently only accepting 10 new patients each month for the Gut Reset Program. Enter your information below or call our office to get on our waiting list.