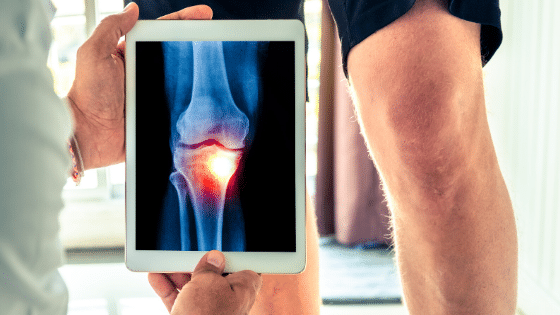 Approximately 1 in 4 adults suffer from chronic knee pain. Total knee replacement is the most performed inpatient surgery for those aged 45 and older in the United States. With that many knee surgeries occurring, one would think that switching to artificial knees is the best solution out there. But is it?
Knee surgery costs an estimated $15,000 (and this is after insurance), requires 3-4 days of hospitalization and months of physical therapy. This means that you'll end up having to take a lot of time off work ($$$) as well as your regular activities in order to recover.
1. Knee Surgery Does not restore full range of motion
Some people assume that surgery is going to restore their full range of motion, but this is often incorrect according to a recent Washington Post article. The range of motion that they "have going into surgery with is what you will come out with," said Elizabeth Matzkin, an orthopedic surgeon and a spokeswoman for the American Academy of Orthopaedic Surgeons. "Knee replacement is done for pain relief, not necessarily to improve range of motion."
2. Pain still persists in as many as 33% of knee replacement patients
Research suggests that up to one-third of those who have knees replaced continue to experience chronic pain, while 1 in 5 are dissatisfied with the results. A study published last year in the BMJ found that knee replacement had "minimal effects on quality of life," especially for patients with less severe arthritis.
3. Cortisone Causes Cartilage Damage, Nerve Damage and Bone Deterioration
Repeated use of cortisone carries a lot of risks and will be more detrimental to your joint health down the road. Here's a list of potential side effects straight from the Mayo Clinic
Cartilage damage
Death of nearby bone
Joint infection
Nerve damage
Temporary facial flushing
Temporary flare of pain and inflammation in the joint
Temporary increase in blood sugar
Tendon weakening or rupture
Thinning of nearby bone (osteoporosis)
Thinning of skin and soft tissue around the injection site
Whitening or lightening of the skin around the injection site
4. Cartilage Can Be Regenerated (Even on Bone-on-Bone Conditions) In the Right Environment
One of the biggest issues with joints like the knee is it doesn't have a good blood supply to bring them oxygen. Because of this, it's an extremely slow healer and if the body doesn't heal properly within a set amount of time, it becomes a chronic issue, which is what we're seeing happening over and over again. If the body is given a nutrient and oxygen dense environment, many times the body is able to actually repair and heal itself. The problem is, most standard methods, including NSAIDS like ibuprofen, actually block the body's healing abilities.
5. A Treatment that You've Probably Never Heard of Has Higher Success Rates than Surgery at a Fraction of the Cost
RenuO2 is a root source treatment that utilizes precision placement deep in the fascia plane to promote temporary blood supply. This injection also includes empowered oxygen and nutrients to create an ideal environment for healing. This greatly increases the likeliness that the body will be able to do its job and heal the injury.
RenuO2 costs significantly less than surgery, plus it doesn't require any down time for recovery. Because it's based on natural substances that are good for the body, the risks are very low. There have been no harmful side effects reported. However, patients have reported beneficial side effects like increased energy, improved mental clarity, reduction in headaches, and more.
Learn more about RenuO2